Check us out on the links to the left, below, call or email the office.
Book Online for Motorcycle or Scooter Training Courses
Interested in Gift Certificates? We have Christmas or Birthday gift certificates available. Any denomination....purchase online or call our office.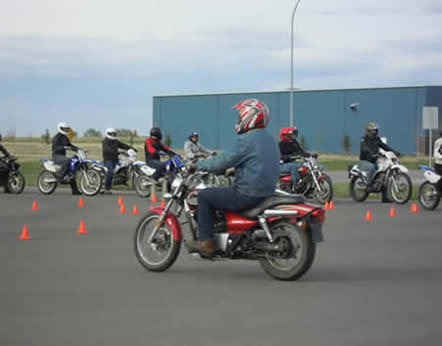 ---
what you will learn for beginner riders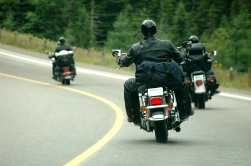 Survivial Riding Strategies
Anticipate hazards
Making yourself more visible
Collision avoidance
Riding in adverse conditions
Basic Maneuvering Skills:
Slow speed control and balance
Accelerating and braking
Turning and obstacle negotiation
Emergency Braking

How To:
Select safety apparel and equipment
Performance basic mechanics and maintenance
requirements

The following requirements must be met to take our course:

1. You must have at least a valid class 7 Learner's license and be a minimum
of 16 years of age. (minimum 14 years of age for Scooter course)
2. You must bring:
a. An approved Ministry of Transportation helmet.
(we rent helmets for $10.00 for the course)
b. Eye protection (sunglasses, glasses, shield on helmet)
c. Sturdy jacket (jeans, leather)
d. Suitable pants (jeans, leather, heavy twill, etc)
e. Footwear that covers the ankles.
(hiking boots, cowboy boots, no runners)
3. Rain Gear is strongly recommended.
4. If you do not have previous experience on a motorcycle,
being able to ride a bicycle is strongly recommended for balance and experience with standard transmission is very helpful also..

training risks & Liabilities

We take every precaution to control activities and to minimize the risk of accidents occurring in training and have an excellent safety record. An element of risk, however, is always present in learning to operate a motorcycle, either at a course or on your own. The Calgary Safety Council presents these courses as a public service and accepts the risks of accidental damage to course motorcycles.

Students will not normally be required to bear the cost of such damages. We cannot however accept responsibility for any bodily injury or damage to our students' property while they are in our courses. All adult students and the parents or guardians of minors will be required to sign a release of liability for such bodily injury and property damage before commencing training
cancellation policy

Our Cancellation Policy is that 14 days notice is required to cancel a course (which includes classroom and riding session) and to receive a full refund. With less than 14 days notice students will be assessed a $100.00 fee. Students who fail to attend the course will forfeit the entire fee. The Calgary Safety Council retains the right to cancel or reschedule courses as required.
courses offered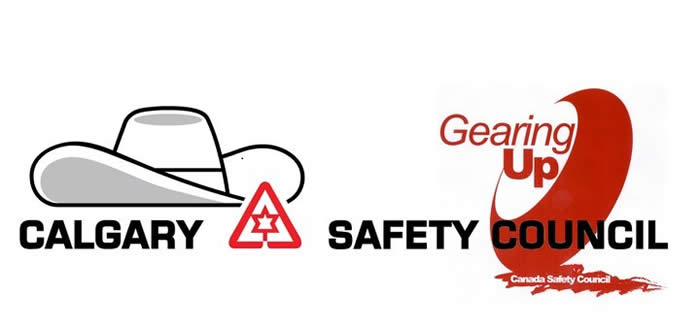 Gearing Up was developed by the Canada Safety Council and is available across Canada. The fundamental purpose is to create skilful, safety conscious, responsible motorcyclists. Riding will then become not only safe, but more pleasant and enjoyable.

The course has been designed for all motorcyclists, regardless of experience level. If you are a novice rider, you will gain knowledge to help avoid accidents during that all important first six months of riding.

The course is approximately 20 hours of instruction in basic and more advanced maneuvers (3 hours of theory, 17 hours of practical). Over 100,000 new riders have been exposed to this proven curriculum.

The motorcycles provided are 250 cc and under in displacement. Our instructors are highly experienced riders and qualified, licensed trainers in motorcycle safety and many are retired police officers. Our students are both male and female of all ages and may be first time or experienced riders.
gearing Up

(Introduction To Motorcycle Riding) GEARING UP course curriculum from the Canada Safety Council. From April to October, we offer this course as an evening course at a cost of $490.00 or over a two day weekend course or two day midweek course at a cost of $550.00 dollars.
.
LADIES ONLY: we have five select courses for 2014 for the ladies who would prefer to learn with their peers. The course is offered during the weekday evenings only. The cost is $550.00 and we require a minimum of 5 ladies.
Okotoks Course: To be decided at a later date.
Private Lessons: We offer one day, 9:00 am to 5:30 p.m., one-on-one GEARING UP private lessons during the week.  The cost of this course is $750.00 and is dependent on the availability of the instructor. Please contact the office to set this up.
Private Lessons (Doubles): We offer one day, 9:00 am to 5:30 p.m., two students, one instructor GEARING UP private lessons during the week.  Doubles can be spouses, friends or family. The cost of this course is $1500.00 and is dependent on the availability of the instructor. Please contact the office to set this up.
Repeat Course: The cost is $250.00 to repeat the GEARING UP course and there is a time limit of 1 year of when you first took the course with us.
Practice Course: The cost is $200.00 to have an additional 3 hour one-on-one training with an instructor after you have completed your training or to brush up for the season. Please call the office to book your practice course.

Skills Course: The cost is $200.00. It is a 2 day weekend course that refreshes your skills and teaches collision avoidance, maneuvers in a controlled environment and learning your own capabilities with your class 6 license and your bike using slow skills. This course is on lot only.

Advanced Course: The cost is $200.00. You must have your class 6 license and your own bike, plus  enough riding experience to take this course. Course is on lot and on the street. Test your competency on your own bike.

Scooter Course: Cost is $250.00.  This course outline is similar to the motorcycle course but does not take as much time as the student is not learning how to start, stop and shift gears during the exercises.